Here is a great way to serve a tasty festive drink.
These are apple cider cups from Gimme Some Oven.
Here are the directions: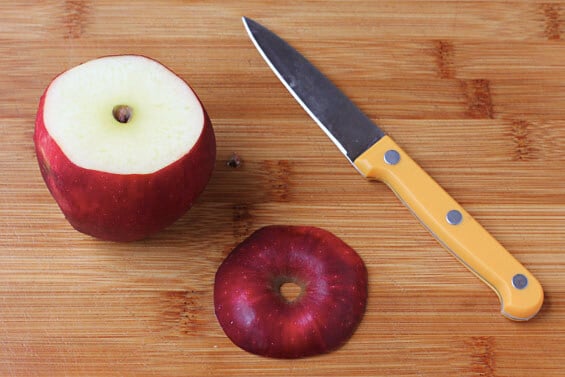 Apple Cider Cups Recipe
Ingredients:
large apples
lemon juice
apple cider, either homemade or storebought
optional: cinnamon sticks, whole cloves, allspice and/or star anise for garnish
Method:
On a cutting board or sturdy surface, use a knife to cut off the top of the apple.  Then take a paring knife and carefully outline where you'd like the "rim" of your apple cup to be.  (My rims were about 1/4″ wide.)  Use a spoon to carefully begin scooping out the center of your apple until you have a nice "cup".  (A melon baller also works well for this.)
Also, if your apple doesn't sit exactly level, take your paring knife and just slice off a few millimeters to even off the bottom to make it even.  Just be careful not to let your knife cut through the bottom or sides of the apple when hollowing it out, or the cider will leak out!
Once you have the inside of the apples hollowed out, brush a little lemon juice over the inside of the apples (to prevent browning).  Then fill with your favorite apple cider, garnish with cinnamon or spices if you'd like, and serve!
Tip:
You could also warm the apple cups in the oven before serving.  I just wouldn't leave them in too long, or they will lose their firmness.